"I'm from California and I'm deep in Florida, and there's all these bikers around me. Dudes have their hands on buck knives. What did I get myself into?"
If life is a direct imitation of art, then Trash Talk embody the notion with brutal authority. Reflecting on past scenarios, it's apparent touring recollections seem to centre on situations, which contain the same intensity, and strength the band's music is renowned for delivering.
It's immediately refreshing talking to the boys from Cali. Trash Talk are simply sincere and forthright. The music is innovative and the words precise.
This time it's almost a state of anonymity for the group. While the music is loud, the visit is inconspicuous. In town for a secret show as part of Converse's Cons Project Melbourne, Killyourstereo.com chatted to trio – Lee Spielman, Spencer Pollard and Garrett Stevenson – about all things Trash Talk.
It's a dual purpose. A converted warehouse in the CDB now plays host to a cavernous, decked out skate pack, with a makeshift stage set-up in the corner. It's a timely visit with the recent release of anticipated studio album, 'No Peace' fresh in the listener's gaze.
"[I've] just been riding around the city, chilling. I've been using this opportunity to kick it out here a little bit; you don't really get to see the city too much from touring. Having some time to hang out is sweet," guitarist Garrett Stevenson says of his time in Melbourne.
Equally, in regards to purpose, Spielman is quick to add that Converse (launching their new Weapon range) is a symbiotic working relationship.
"Most of the stuff we do with Converse is tight because it's more creative. It's not like, "Oh shit! We're about to put you on an ad." It's good to have less of a business relationship and more of a creative relationship," the frontman affirms.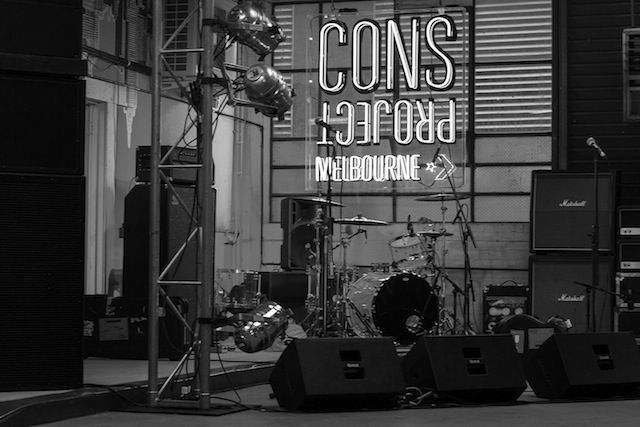 It's a DIY aesthetic for the event. Dripped in secrecy, the night attracts die-hard fans having registered for the chance to receive a door spot. It's this same "community" aspect that is currently feeding the early success of the aforementioned full-length.
"I feel a punk record comes out and it's an event. I'm about to go buy this shit because I feel this and this is what I'm into. I feel other genres don't really have that kind of community in the sense like, "I'm going to get a physical copy and read everything in here, and look at this through and through."
"I feel a lot of other genres are like, "I'm just going to download this, give it a listen and if I like it, whatever." Punk and hardcore has always been a collectable type. I get super hyped when a kid is like, "I just went to 10 record stores in my city and I finally found this!" It's all about the chase on release day," Spielman suggests.
Today, identity is important against a backdrop of generic and indistinguishable bands. Trash Talk have the solid and reputable music, but now, perhaps, a recognisable symbol of character. The cover of 'No Peace' is simplistic yet distinct and attributable. It's led Workaholics' Anders Holm to compare it to the iconic Michael Jordan logo of the 90's.
"We shot that in our house where I live, it was super fun. It was cool to work with a photographer we really like," Spielman says.
@TRASH_TALK yo, this is like you dudes' MJ logo. raw.

— Anders Holm (@ders808) May 9, 2014
Moreover, when the music is passionate the respect of peers is evident. 'No Peace' has already received praise from colleagues. It's a point not lost or undervalued by the band.
"I think supporting your friends especially – whether their art or music – is really important. We've been lucky to have a lot of support from our friends whether it's taking photos or shooting videos or whatever, we have a mutual respect, and mutual support both ways," Stevenson notes.
"…It's really cool. It's cool to have your peers and get positive feedback from them," Pollard adds.
this new @TRASH_TALK record has got me feeling somethin nice

— keith buckley (@deathoftheparty) May 30, 2014

Trash Talk are currently in a position to pay back the opportunities afforded to them. The Cons Project show is predicated on providing entertainment for local "fans". Additionally, fitting with the same concept, June/July sees the band take in a run of free shows in the US. It's admirable in a time where everyone seems to always have their hands out.
The outfit is pragmatic in their assessment; asserting how the performances are a thank you to friends, fans and listeners.
"I think the Free Tour is super important. We've done countless tours in a van where five kids show up to a show, but they're all juiced, they all paid to get in and they all got a t-shirt. There are kids all over the world that I've seen since our first tour and will probably see until our last tour."
"It's really tight to be able to give back to those kids. Without them we probably wouldn't be a band, so it's cool to be like, "Thank you for keeping us afloat, here you go," Spielman says.
Furthermore, Pollard notes how the reception is almost irrelevant; it's about providing a new experience when the band attempts to give back to the scene that helped create them.
"Even taking ourselves further and doing tours and playing shows with rappers, it's the same thing. You're exposing people to new stuff whether it's a positive or negative reaction or experience that's on them, but at least they're checking something new out," the bassist offers.
We're keen to probe the group on a previous incident, which saw the members held at knifepoint after a show in Florida. The trio elaborates:
"The promoter was claiming that his PA got broken because the band that played after us said there was feedback from the microphone going into it. He called his biker buddies and tried to shake us down," Pollard grins.
"It was Trash Talk, Iron Age and Cold World. One of the first shows of the tour or something," Spielman continues.
"It was some crazy biker gang and they were like old-school style, a dude with a buck knife, talking to us like, "What happens now Gene, are we coming at them?!" It was just like a movie. You could see all our friends in the background assembling weird bottles. We were like, "We're not getting killed by there weird bikers. That's definitely not happening now," the vocalist says.
In retrospect, the band can now look back with humour seeing the lighter side of things.
"The club owner tried to flex really hard," Spielman recalls.
"He was like, "You don't understand! This ain't Boston, we're in Winter Park. I'll make sure you play no where."
"He was like Ric Flair," Pollard laughs.
The band is relaxed pre-show and the performance during the evening is trademark Trash Talk. No fluff, just powerful and complete. However, this is a Trash Talk show. Towards the tail-end, the pit breaks open. Standing isolated in the middle, a fan, fly down, dick pointed up, pees into his mouth. Enough said really.
Trash Talk plays secret show in Australia. Man pisses in his own mouth at said show. The internet breaks.

— Lee Spielman (@LeeSpielman) June 7, 2014
'No Peace' is out now via Trash Talk Collective/Odd Future Records/Sony Australia.
Photos kindly provided and courtesy of Converse Australia.

*Read the full Trash Talk interview transcript here.
https://www.facebook.com/pages/Trash-Talk/64704193922